VIII. OKTOBERPEST TANGOFEST
05.10.2018 - 08.10.2018.
Hotel suggestions
Dear Tango Friends,
Please find below a few accomodation suggestions for your stay during OktoberPest TangoFest.
Option 1
Ibis Budapest Heroes Square Hotel ***
The closest option for the easy gooing ;)
Just in the corner of our Tango Club, you can stay for a reasonable price in the 3 stars international standard Ibis hotel. In case you don't want to wake up early before the morning workshops…
Economy hotel for business and leisure Ibis Heroes Square welcomes guests in the cultural heart of Budapest, next to the City Park with excellent public transport connections to the city center (Metro station: Hősök tere) and with hotel garage. The latest Ibis designed public area is enhanced by its immediate proximity to the Museum of Fine Arts, Hungarian Art Gallery, Széchenyi Spa, Zoo, Heroes Square and the National Opera House. The hotel has air-cooling system, free WIFI and exceptionally comfortable beds in spacious rooms.
Contact & photos: https://www.accorhotels.com/gb/hotel-6564-ibis-budapest-heroes-square/index.shtml Tel.: +36 1 269 5300 E-mail: H6564@accor.com Address: 1068 Budapest, Dózsa György út 106.
Location: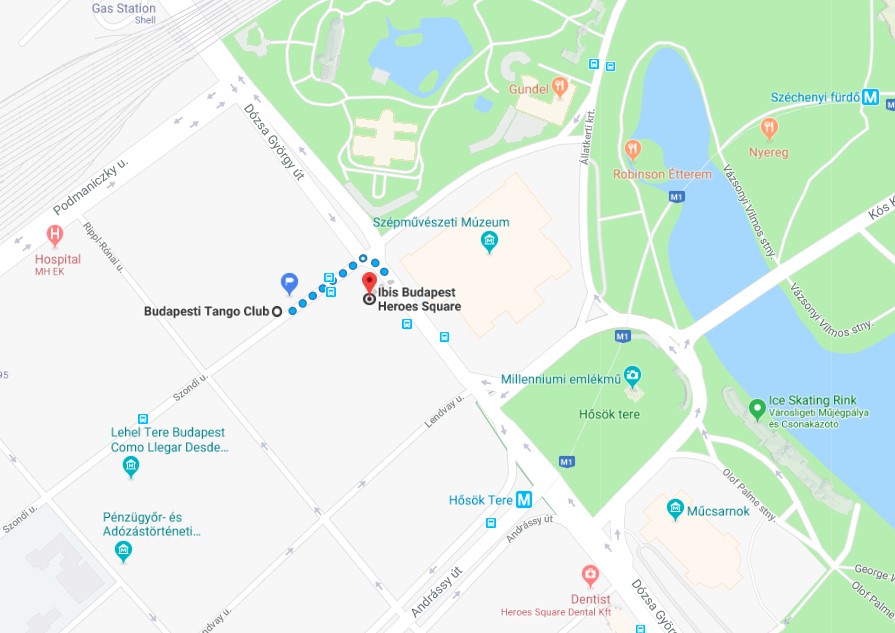 Option 2
Mamaison Hotel Andrassy Budapest ****
A bit of luxory a few minutes form our Club and close to the milonga venues as well! ;)
Welcome to Mamaison Hotel Andrassy Budapest! This upscale boutique hotel is located in the historic Andrássy Avenue, also known as the Champs Élysées of Budapest and a UNESCO World Heritage site. You'll enjoy being 5 minute walk away from Heroes' Square and about 3 km from the popular Váci Boulevard with its many stores, shops and restaurants. In the nearby surrounds, the Széchenyi thermal baths (about 10 minutes on foot) is the perfect place to relax. The Margaret Bridge on the Danube River and Margaret Island are only about 2.5 km away.
You'll reach the Opera House after approx. 20 minutes on foot, and the Great Synagogue after about 30 minutes. Our quality accommodation, remaining faithful to the Bauhaus style, spoils you with free Wi-Fi, 68 stylishly designed rooms and suites, modern comforts, gourmet breakfast, a restaurant and lounge.
Contact & photos: https://www.mamaisonandrassy.com/hu Tel.: +36 1 462 2100 E-mail: reservations.andrassy@mamaison.com Address: 1063 Budapest, Andrássy út 111.
Location: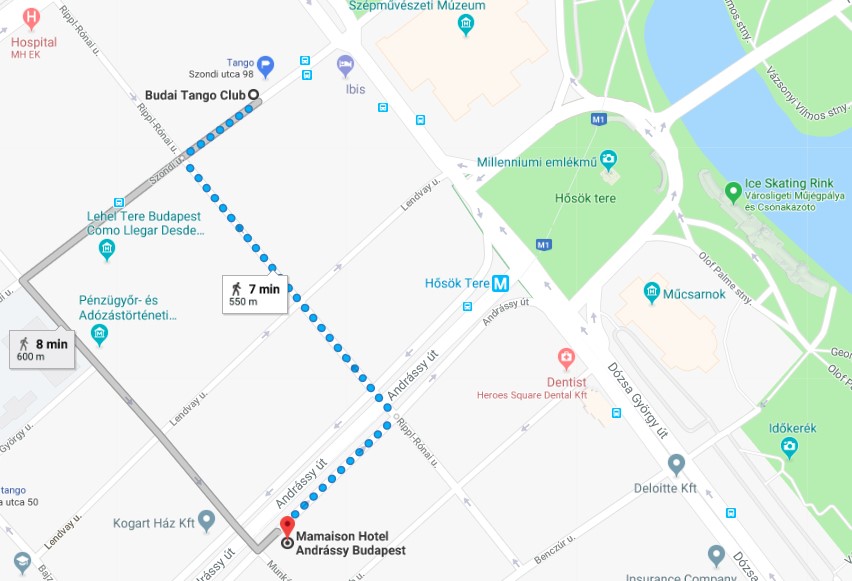 Option 3
Hotel Benczúr ***
Home style hotel nearby
You are looking at the right place if you wish to stay in a small green island secluded from the buzzing whirl of the city, yet easily accessible and right in the heart of the city centre. Our aim is to ensure a pleasant, flawless stay through our high-quality services and personal attention paid not only to your comfort but also to your successful discovery of the classic and trendy assortment of Budapest's attractions as well. Our broad choice of accommodation, events and gastronomic specialities is sure to offer something of appeal to everyone!
Contact & photos: http://www.hotelbenczur.hu/en Tel.: +36 1 479-5665 E-mail: info@hotelbenczur.hu Address: 1068 Budapest, Benczúr utca 35.
Location: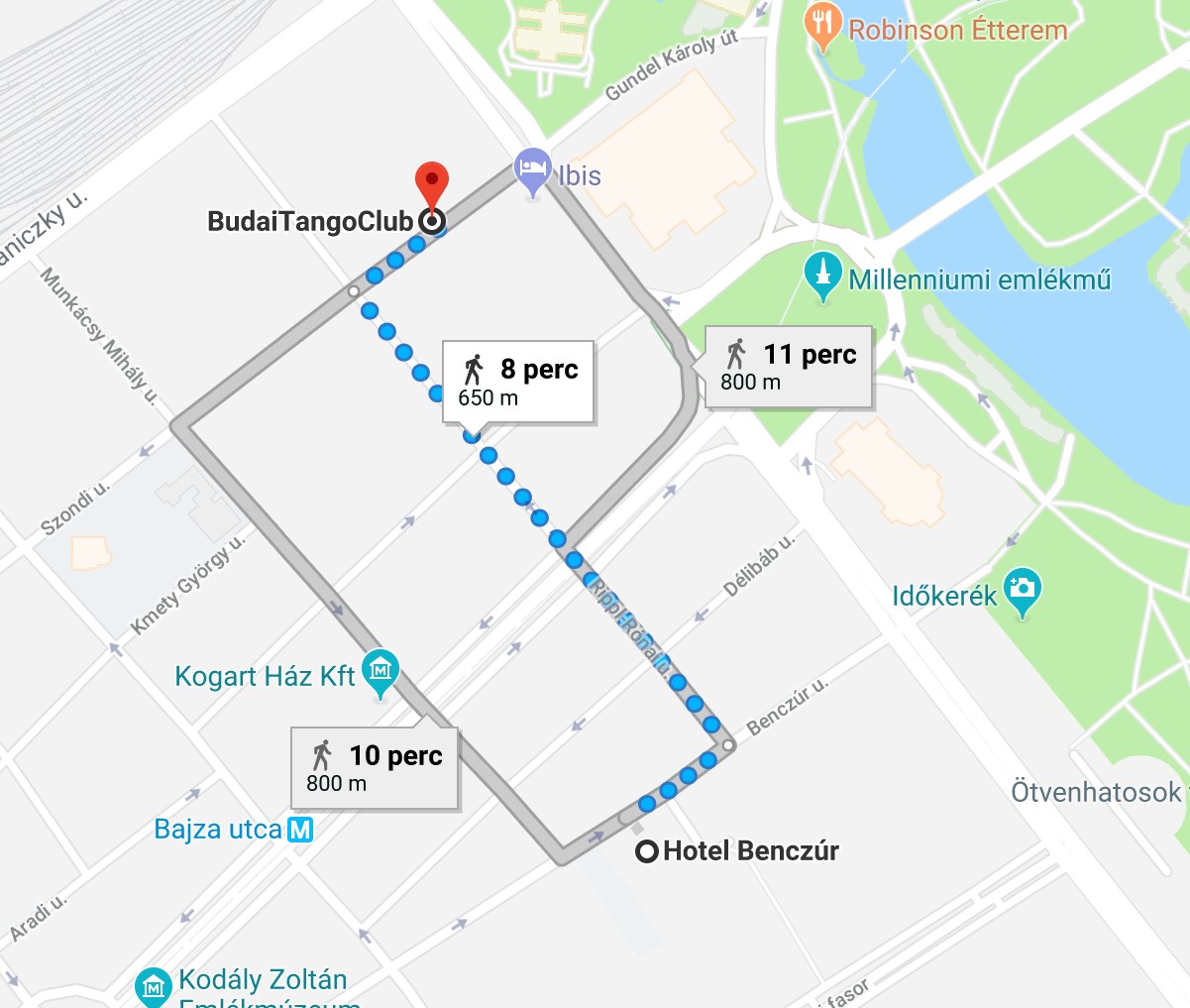 Option 4
HOTEL MOMENTS BUDAPEST ****
If you wish for some extra Hungarian luxory…
VISIT. ENJOY. REMEMBER.
It is located on the stunning World Heritage site of Andrássy Avenue, only a few steps away from the Hungarian State Opera House, the St. Stephen's Basilica and several other spectacular sights of Budapest. Visit our beautifully renewed four-star hotel with 99 elegant and tastefully decorated rooms in three different categories. Enjoy the meals in our modern and cozy Bistro Fine restaurant offering wide selection of quality wine and tasty Hungarian and international specialties.
Let us make your stay with us enjoyable and memorable. We truly hope that you will always remember the pleasant moments.
Contact & photos: http://hotelmomentsbudapest.hu Tel.: +36 1 611 7000 E-mail: reservation@hotelmoments.hu Address: 1061 Budapest, Andrássy út 8.
Location: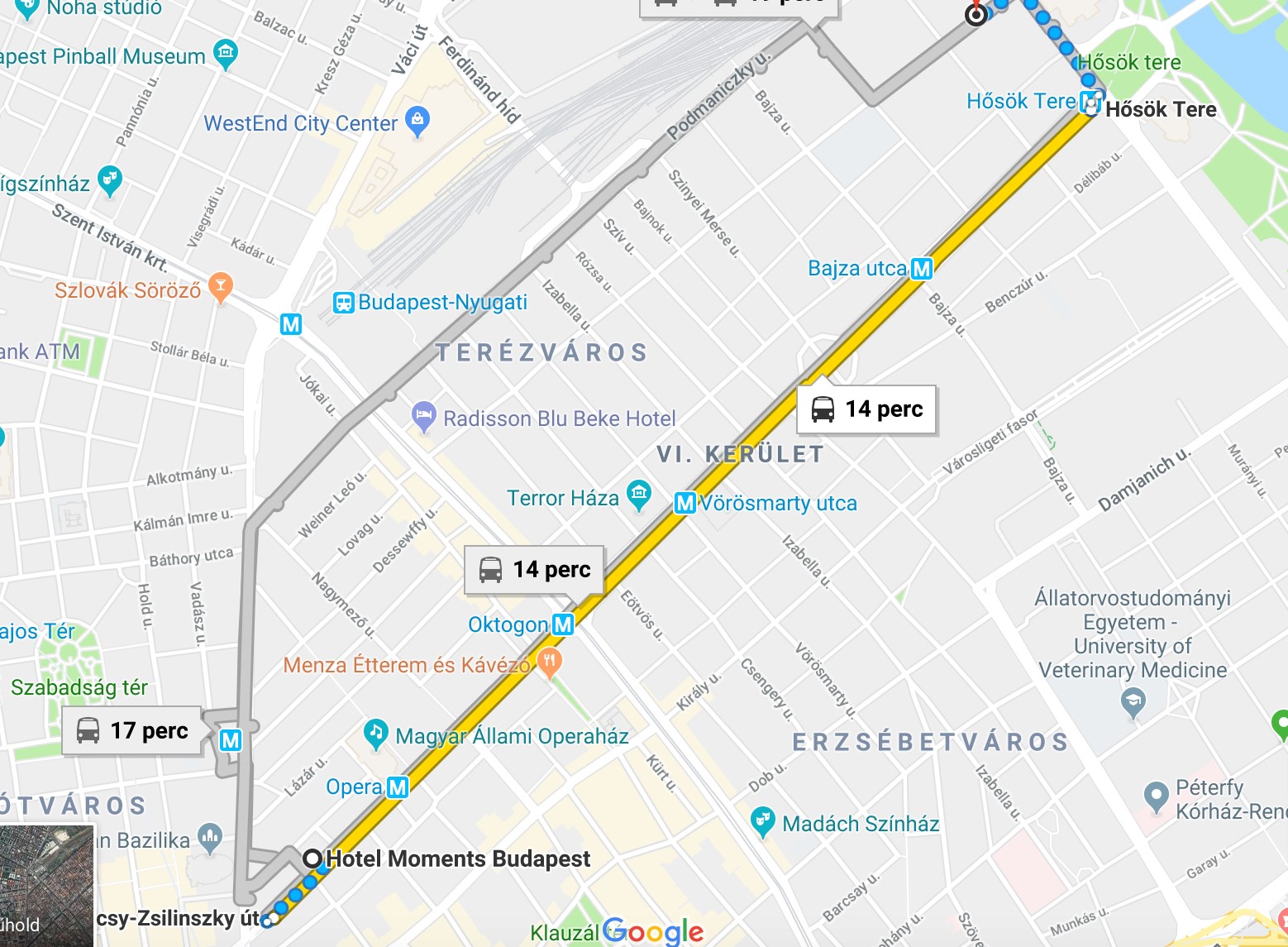 Additional info
When booking we suggest you to use the booking.com site or contact directly to the hotel in one of the given possibilities, saying you are coming to the OktoberPest TangoFest event at Budai Tango Club, so they can note who belonges to the group.
Booking individually unfortunately the hotels can't provide group rates, but if you organize yourself and book more then 10 rooms together sure they can help!
In case of emergency or help needed please contact Dóra Nyeső, our helping hand regarding the accomodation issue, in the following number: +36 20 922 76 52 or e-mail: dori.nyeso@gmail.com
We are looking forward to welcome you in our beautiful city Budapest with many warm tango embraces!
Hugs, Budai Tango Club